Farshore's Spook-tacular Halloween Library Display Packs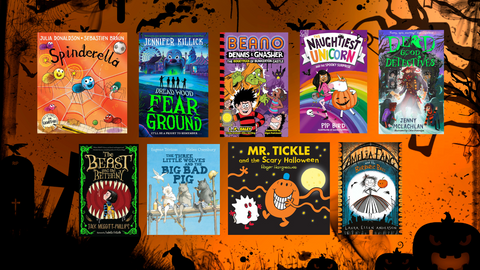 Have a fang-tastic Halloween with Farshore
Carve out some time to make Halloween extra spook-tacular with Farshore's eerie-sistible digital & physical display packs!
Each pack contains display materials, activity sheets and entertaining videos to keep little ones, young readers and pre-teens entertained this autumn.
Little ones will laugh-out-loud as they:
Meet a Hairy Godmother in Julia Donaldson's charming fairytale spin-off Spinderella
Go to a fancy-dress party in Men Little Miss Halloween Party
Join in the fun with Eugene Trivizas's hilariously subversive Three Little Wolves and the Big Bad Pig
Young readers can enjoy some seriously spooky escapades as they:
Look forward to dressing up for trick-or-treating, pumpkin carving and apple bobbing in The Naughtiest Unicorn and the Spooky Surprise by Pip Bird,
Meet a little vampire with a big heart in the gloriously gothic Amelia Fang and the Barbaric Ball by Laura Ellen Anderson
Travel to a spooky fortress in Beano Dennis & Gnasher: The Bogeyman of Bunkerton Castle.
Our middle-grade offering will delight and fright readers as they:
See a real-life ghost in Jenny McLachlan's hilariously heart-racing Dead Good Detectives
Play Flinch, a game of fear, in the funnily fear-some Fear Ground by Jennifer Killick
Discover the secret to everlasting life in the devilishly entertaining The Beast and the Bethany by Jack Meggitt Phillips.
Farshore is offering 100 free physical & digital packs for libraries which include:
X1 Spinderella A3 standee
X10 sticker sheets
X3 A3 display posters (also available as a digital download)
X50 pre-school activity sheets (also available as a digital download)
X50 young reader activity sheets (also available as a digital download)
X50 middle-grade activity sheets (also available as a digital download)
x100 bookmarks
A selection of downloadable author videos and illustrator draw-alongs
The first 30 libraries to sign-up will receive a copy of Spinderella, The Naughtiest Unicorn and the Spooky Surprise and Fear Ground
You can order these brilliant packs until Thursday 8 September (but they may sell out before this date). This is a digital pack but you will be asked for your address for the printed posters, bookmarks, activity packs & standees. There are only 100 of these packs available. It is strictly one pack per library. If you are ordering more than one pack (to disperse to other libraries in your region) you need to also email XXX to notify her of the individual library names that the packs will be used at. Alternatively, you can do individual orders for each library in the shop.
Please note, if you order a pack you are agreeing to use the materials within your library and to send photos of your display using @FarshoreBooks and  #FarshoreHalloreads and feedback to kathleen.ktorides@readingagency.org.uk