*SOLD OUT* Indi Raye Is Totally Faking It Packs - display and activity packs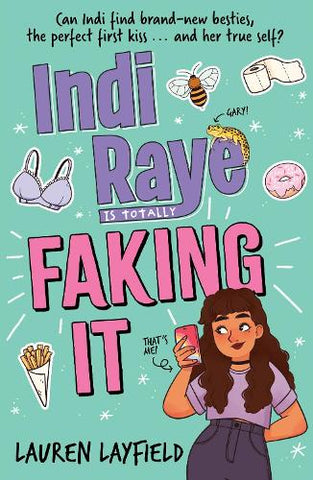 "A brilliant, bold and laugh-out-loud story… an atomic debut!" – Tamsin Winter
For fans of GEEK GIRL and SUPER AWKWARD comes a hilarious new teen series from CBBC presenter and Capital DJ, Lauren Layfield.
Meet Indi. She's new to Manchester with approximately zero friends. Unless you count Gary, who, unfortunately, is a gecko.
If Indi's going to find some real mates - and maybe even a boyfriend - she's going to have to FAKE IT.
How else is she going to survive her first job in a chippy, which is anything but glam vibes? And how on earth will she attract school crush Johnny Hotpants while smelling like a haddock in a hairnet?
Will Indi ever get her first kiss? Will she accept her mum's new boyfriend (yuck)? And will she EVER learn that just being yourself is the most important thing of all?
A HILARIOUS new teen diary series about trying to be cool when you just want to eat chicken nuggets and chat to your pet lizard.
To celebrate the publication of this epic adventure, Hachette Children's Group are offering 30 lucky libraries the chance to receive a wonderful physical and digital pack!
Each pack will include:
1 x Indi Raye A3 poster
30 x bookmarks
30 x sticker sets
Sneak peek extract - downloadable PDF
Activity pack – downloadable PDF
This is one pack per public library. If you are ordering more than one pack (to disperse to other libraries in your region) you need to also email Kimberley.Sheehan@readingagency.org.uk to notify her of the individual library names that the packs will be used at. Alternatively, you can do individual orders for each library in the shop.
You can order the packs until 22 September but they may sell out before this date.
Please note, if you order a pack you are agreeing to use the materials within your library and to share photos of the group using them on social media using #IndiRaye and tagging @HachetteKids, @LaurenLayfield and @readingagency. You will also send feedback of how you used the provided materials by 30 October 2023.  Please do not order the pack if you cannot commit to this. If you do not provide feedback then this may affect your orders in the future.
The publisher will be dispatching your resources. They will receive a dispatch list with your contact name and work address (which you give) for delivery. They will only deliver the pack requested and the dispatch list will then be deleted after the packs have been sent. 
They will only deliver the pack requested and the dispatch list will then be deleted after the packs have been sent.