Operation Nativity reading group discussion packs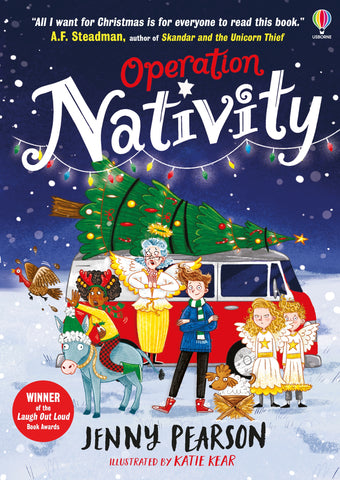 The Ultimate Christmas Family Adventure from the Queen of Heart and Humour, Jenny Pearson!
"All I want for Christmas is for everyone to read this book." A.F. Steadman, author of Skandar and the Unicorn Thief
"A gorgeous, heartwarming story full of hope, humour and love." Hannah Gold, author of The Last Bear
When Oscar and Molly rush outside to investigate a crash in the night, they're not expecting to find a dazed Angel Gabriel wandering around their grandparents' back garden. And they're certainly not expecting to find themselves in a race to save Christmas.
But if they don't track down a missing shepherd, wise man, donkey and the actual Mary and Joseph, who've all crash-landed in Chipping Bottom, not only will Christmas cease to exist, but they will too.
Operation Nativity is on.
Join Oscar and Molly on their race to save Christmas, in this heartwarming book celebrating the joy of spending Christmas with the ones you love.
Bring the joy of Christmas to your reading group with our festive packs!
Each pack will include:
An A2 standee
Sticker sheets
Discussion notes exploring the themes of the story including family and the magic of Christmas
3 different activity sheets including design your own Christmas jumper!
The first 20 requests will also receive a copy of the book.
You can order these brilliant packs until Thursday 27 October (but they may sell out before this date).
Orders for one activity pack per library only.
Please note, if you order a pack you are agreeing to use the materials within your library and to send photos of groups using #OperationNativity and tagging @Usborne and @J_C_Pearson on Twitter and send feedback to Kathleen Ktorides.
Orders for one pack per library only. If you are ordering more than one pack (to disperse to other libraries in your region) you need to also email Kathleen.ktorides@readingagency.org.uk to notify her of the individual library names that the packs will be used at. Alternatively, you can do individual orders for each library in the shop.
Please note, if you do not include a library or school name and use a personal email address your order may be cancelled.
The publisher will be dispatching your resources. They will receive a dispatch list with your contact name and work address (which you give) for delivery. They will only deliver the pack requested and the dispatch list will then be deleted after the packs have been sent.