Rainbows End in Ferry Lane Market display pack *last 6!*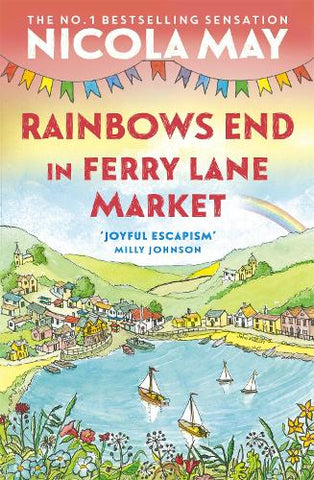 **Please read all the information below before placing an order**
Hodder is offering libraries stunning display materials to promote the paperback edition of Rainbows End in Ferry Lane Market by Nicola May. It is the third book in the series by the author of bestselling phenomenon The Corner Shop in Cockleberry Bay.
39-year-old Glanna Pascoe runs the Hartmouth Gallery in Ferry Lane Market in Cornwall. She is just getting her head and broken heart around being single, childless, and sober when she meets the mysterious and fascinating Isaac Benson, famous local artist, and recluse. With her disillusioned heart beginning to soften, Glanna begins to learn more about herself than she ever thought possible. Confused by her growing feelings for Isaac, Glanna throws herself into organising a life-drawing class at her gallery, setting local tongues wagging. A theft from her gallery and the return of ex-love Oliver Trueman cause Glanna to wonder if a pot of gold will be appearing at the end of her rainbow. And will it bring her the happiness, she has sought for so long?
The book follows Book One, Welcome to Ferry Lane Market, and Book Two, Starry Skies in Ferry Lane Market.
Your display pack will contain: 
Printable A4 posters promoting all three titles (PDF)

Bunting template promoting all three titles (PDF)
x10 printed postcards for Rainbow's End featuring beautiful illustrations inspired by the book
Social media assets with pre-written copy for posts
Display competition
The Library with the best display will win a copy of each of the Ferry Lane Market paperbacks with a signed book plate! Read the instructions below to take part.
What you need to do
Please place your free order by Tuesday 5 April (note, packs may sell out before this date). Print materials will be sent by post and digital materials by email shortly after this date, or once the packs have sold out.
One pack per library only. If you are ordering for multiple libraries in your authority, please get in touch via the email below.
Please note, by ordering a free pack you are agreeing to create a library display using the materials and share the digital assets on social media. You will be expected to send back photos of your display to zoe.sadler@readingagency.org.uk by Friday 27 May. You will also be asked to complete a short feedback form. Please do not order a pack if you cannot commit to this.
If you have any questions about ordering or using this pack, please get in touch via the email above.