Sunshine Simpson Cooks Up a Storm Display Packs (*20 remaining*)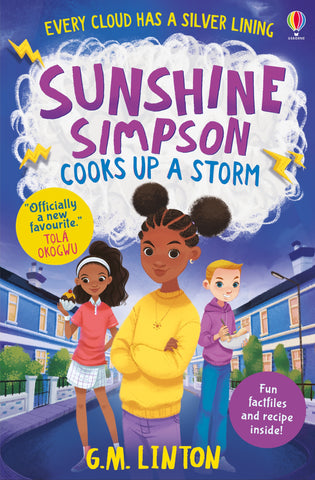 Meet Sunshine Simpson -a brand-new best friend for 9+readers! Perfect for fans of Jacqueline Wilson.
Usborne is offering display packs to schools and libraries to promote the book. 
The pack includes a poster, discussion notes and activities and stickers.
In return we would like you to send some photos of your display and feedback about the resources and how you have used them. 
Place your order by 8 September. 
More about the book
Sunshine Simpson's life has never been so busy! She feels like she's on a ROLLERCOSTER. At school everyone is talking about preparing for the big move to SCARY secondary. Plus, there's a Charity Bake Sale to plan for. But with Sunshine's Dad travelling for work, Mum forgetting how to smile, a surprise family guest int he mix, and her BFFs and bake-sale classmate Riley CLASHING, Sunshine needs a DARING PLAN to stop the storm clouds from settling! Will Sunshine's foolproof plan prove to be a piece of CAKE...or a recipe for disaster?
Orders for one activity pack per library only. If you do not use a professional library email address and/or a library address, your order may be cancelled.
Please note, if you order a pack you are agreeing to use the materials within your library and to send photos of groups within six weeks of receiving your pack.
The publisher will be dispatching your resources. They will receive a dispatch list with your contact name and work address (which you give) for delivery. They will only deliver the pack requested and the dispatch list will then be deleted after the packs have been sent.