There Once is a Queen - digital and bunting packs (*SOLD OUT*)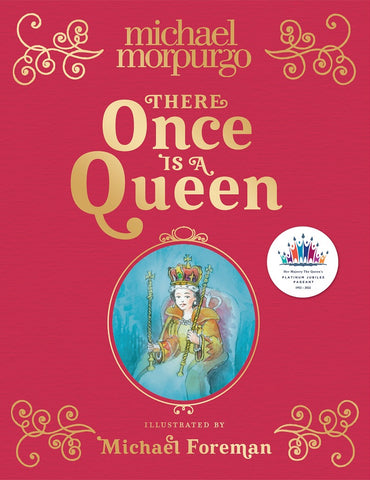 Celebrate the Queen's Platinum Jubilee with this beautiful book from Michael Morpurgo and Michael Foreman and a bumper jubilee activity pack!
"There once is a Queen ever constant to her people…"
From the Nation's Favourite Storyteller Sir Michael Morpurgo comes a poetic celebration of our Queen and longest reigning monarch, beautifully illustrated in watercolour by acclaimed artist Michael Foreman.
There once was a little girl, born a princess. While she was still a young woman, she became a queen, our Queen Elizabeth. Now, seventy years later, her reign as the longest serving monarch in history has seen her stand steadfast through triumph and tribulation, and through the monumental changes that have shaped our world. This remarkable queen has remained devoted to crown, to country... and a corgi or two!
Beginning with the queen as a little girl, planting an oak tree with her father, There Once is a Queen follows her incredible story in a way that will bring this historic reign vividly to life for readers, big and small, around the globe. An exquisite gift book and commemoration of the Platinum Jubilee, it marks a unique moment in our shared history and will be a treasured keepsake for generations to come.
The digital packs include:
3 x colouring sheets
3 x jubilee bunting templates
3 x jubilee party craft ideas
1 x wall display idea
4 x jubilee party recipes
We also have 50 packs of bunting to offer – one pack per public library only.
Order by 27 May.
Please note, if you order a pack you are agreeing to use the materials within your library and to send photos of groups using #ThereOnceisaQueen and tagging @harpercollinsch on Twitter / #ThereOnceisaQueen and tagging @harpercollinsch on Instagram and send feedback to Kimberley Sheehan by 20 June.
Orders for one pack per library only. If you are ordering more than one pack (to disperse to other libraries in your region) you need to also email Kimberley.Sheehan@readingagency.org.uk to notify her of the individual library names that the packs will be used at. Alternatively, you can do individual orders for each library in the shop.
Please note, if you do not include a library or school name and use a personal email address your order may be cancelled.
The publisher will be dispatching your resources. They will receive a dispatch list with your contact name and work address (which you give) for delivery. They will only deliver the pack requested and the dispatch list will then be deleted after the packs have been sent.