Winter Mini Challenge 2022 resources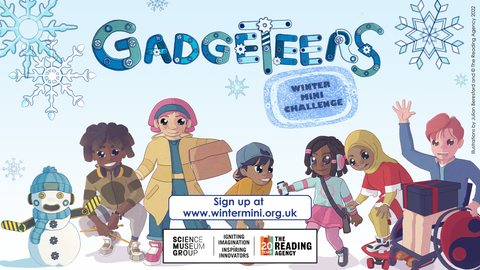 The Winter Mini Challenge encourages children to keep reading through winter.
We are very excited to announce a return of the Gadgeteers!  
The Reading Agency are teaming up with Science Museum Group once again as the Gadgeteers find themselves in a snowy situation... can they use their ingenuity and creativity to keep everyone entertained during a snowstorm? 
Young readers can expect cool do-it-at-home experiments and fun reading activities as they read for pleasure with the Winter Mini Challenge.  
Click Add to Basket below to receive our free Winter Mini Challenge resources 
Download and encourage young readers at home, your library, school, reading group or community organisation to take part. 
The download includes:
A3 Promotional Poster
Completer's Certificate
Reading Record 
Activity Sheet 
Welsh language versions

of the poster, certificate, reading record (optional) 
Once you have completed the online checkout process you will receive a confirmation email and a follow-up email, containing a link to download the Winter Mini Challenge resources.
We will use the email address provided at checkout to send you your resources, plus a follow-up survey in March 2023 to find out how you used them. We will not use your email address for any other purpose.
You must click '
Still waiting for your follow-up email? Get in touch at summerreadingchallenge@readingagency.org.uk and we'll ensure you receive your resources download!

We use Mailchimp to send our follow-ups, so if your email server blocks Mailchimp or you've previously unsubscribed from The Reading Agency's mailing list, please do get in touch.
Please do tag us in your #WMC2022 social media posts - you can find us on Twitter and Instagram at @readingagency and Facebook at @SummerReadingChallengeUK