Don't tickle the… event pack *SOLD OUT!*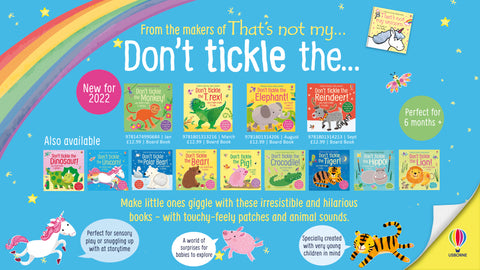 Guaranteed giggles for babies and toddlers with a Don't tickle the… event pack
Don't tickle the… is a multi-sensory series for babies and toddlers, from the publishers of the bestselling That's not my… books.
Winner of the Sainsbury's Children's Book Award 2020, the series contains plenty of characters to collect from dinosaurs to unicorns, bears and crocodiles!
Designed to develop sensory and language awareness, little ones won't be able to resist tickling the touchy-feely patches to hear each animal sound. Guaranteed to induce giggles!
Usborne Books are offering libraries across the UK 30 Don't tickle the… event packs, which include:
1x tabletop standee
1x A3 poster
Colouring sheets (10x each of 4 designs)
X1 copy of either Don't tickle the reindeer or Don't tickle the polar bear
You can order these brilliant packs until 25th November (but they may sell out before this date).
Orders for one pack per library only. If you are ordering more than one pack (to disperse to other libraries in your region) you need to also email  Kimberley.Sheehan@readingagency.org.uk to notify her of the individual library names that the packs will be used at. Alternatively, you can do individual orders for each library in the shop.
Please note, if you order a Don't tickle the… pack you are agreeing to use the materials within your library and to send photos of your Don't tickle the… display and feedback of any events to kathleen.ktorides@readingagency.org.uk. We'd love to see photos using #Dontticklethe on social media too.
Packs will be dispatched to libraries in November for use in December.