Free packs of postcards and digital poster to promote the Nan Shepherd Prize for Nature Writing!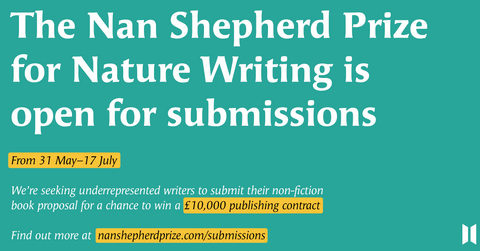 The Nan Shepherd Prize seeks new writers to apply until July 17th. The prize is looking for underrepresented writers (whether through ethnicity, disability, class, sex, gender, sexuality or any other circumstances) to submit a proposal for a book that engages with nature or environmental science. The winner of the prize will receive a £10,000 advance on their book, a publication contract with Canongate Books, and an offer of Literary Agent's representation with Caro Clarke of Porty Literary Agency. Prospective writers can apply for the prize here.
Packs of free postcards are available which break down how someone could apply for the prize. While stocks last, packs of 20 available. To request a pack for your library, please place your order below. Please order one pack per library only.  If you are ordering for multiple libraries, please send an email to katheen.ktorides@readingagency.org.uk with details of which libraries you are ordering for. 
You will also receive a digital A3 poster to promote the Prize. 
Please place an order by 17 July. While stocks last. UK libraries onlyl.