Reading Ahead 2023-4 incentives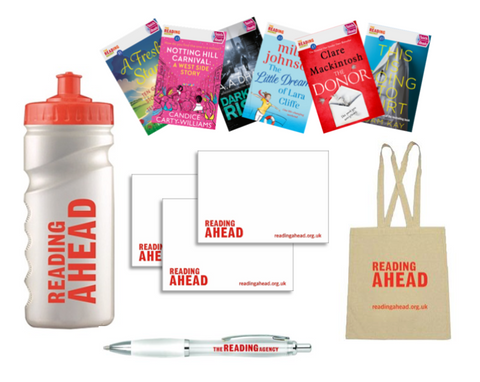 We offer a range of incentive items that can be used to encourage and congratulate Reading Ahead participants on their reading journey. 
Reading Ahead is available in print format for 2023-4. Find out more about the Reading Ahead programme here. To purchase core packs visit the Shop.
INCENTIVE PACKS:
Pens (pack of 50) £20.00 (featuring The Reading Agency logo)
Sticky notes (pack of 30) £20.00
Water bottle, 500ml, clear plastic (pack of 10) £25.00
Cotton bags (pack of 25) £30.00
Quick Reads, visit The Reading Agency bookshop to purchase Quick Reads for just £1 per book. Every purchase from our bookshop includes a contribution to The Reading Agency and independent bookshops in the UK. 
Dictionaries (prisons only), thanks to generous support from Give A Book, those running Reading Ahead in prisons can register their interest for free dictionaries for their completers.
Place your order from the drop-down menu below.  Just add to basket and check out when you are ready.  All items are exclusive of VAT and P&P. P&P costs are available in our T&Cs.